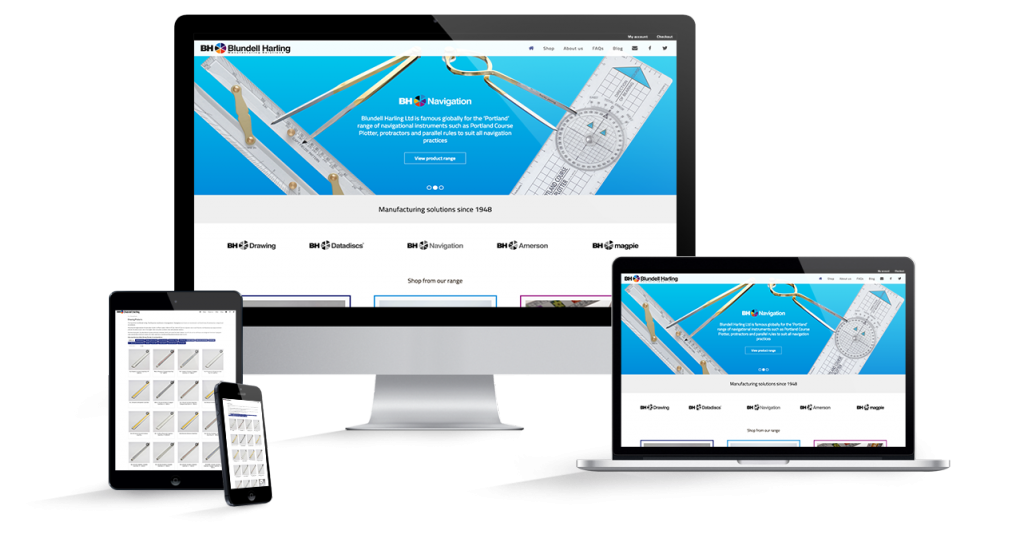 Blundell Harling
Blundell Harling Ltd is a privately owned, medium sized manufacturing company that has been trading in the UK since 1948. The company employs multi-skilled personnel and specialises in manufacturing small to medium sized batches into multiple 'niche' markets.
Blundell Harling manufacturers an extensive range of drawing equipment, scale rules, templates and technical drawing equipment for use by technical students in further education, architects, engineers, specialist designers, draughts people, and graphic artists. The company also designs circular calculators branded 'BH Datadiscs', slidecharts and overprinted scale rules for promotional and advertising use.
Cookehouse created the branding for the group along with printed direct mail and product brochures. Cookehouse also designed and developed a full e-commerce website that incorporated the three core offerings of the company; Drawing Equipment, Navigational Aids and Promotional Products.
What we did
Branding • E-Commerce • Website Design & Development • Custom Content Management System • Mobile Design • SEO • Google Shopping Feeds
To view their website, please go to: www.blundellharling.com